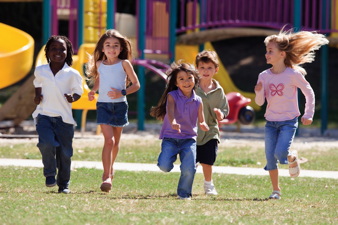 Canyon View Miler's Club is a fun, voluntary activity for students in 1st through 5th grade during lunch recess. This club is about having fun while running or walking. It is not about being the fastest, but about being part of an organization that recognizes and enjoys the benefits of physical activity.
How does it work?!
Our PE teacher Mr. Phillips, will set up the course along the outside of the big field. As the students complete one lap he/she receives a hole punch on their miler's card. Students will be able to run/walk for about 15-20 minutes during their recess. Students will NOT be timed based on miles completed.
Mr. Phillips will keep a running total throughout the year on miles/laps earned so the students can see what they have accomplished.
There will be a raffle at the end of each recess for students to have an opportunity to earn a small prize for participating that day.
Why Participate?!
Running and walking are both healthy and fun!
Exercise has been linked to improved academic performance, classroom behavior, and self-esteem.
Students will be recognized for their accomplishments on the PE bulletin board and during our quarterly Spirit Assemblies. For every 5 miles a student completes they will get a sneaker on the board with their name and how many total miles they have done!